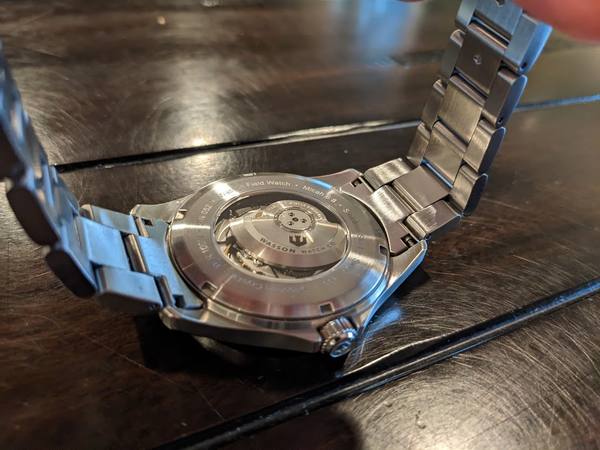 What Customer Service Means to Us
When people learn that I run a watch company, those who are more familiar with the watch industry will often ask me something like, "What sets your watch apart?" I usually go down the list and give a couple of answers: 
Legibility - the Arabic numerals and hands are bold, and make it easy to read so that you can tell what time it is in an instant.
Features - it's an automatic, mechanical field watch that's made in Switzerland with 316l stainless steel, sapphire crystals, a Swiss movement, and 100M of water resistance.
Total package value - Each watch comes with a handcrafted leather tool roll (made in Texas), a spring bar removal tool, a link removal tool, and even though each watch comes on a stainless steel bracelet, it comes with an extra nylon strap.
Our values - we aren't shy about sharing what we believe and why. We are a Christian company that seeks to honor God and sees the God-given value of every human being. 
Customer service - We go above and beyond to serve our customers well. Your satisfaction is our priority. 
While I'm genuinely very proud of each of these distinctives, I'm beginning to see that the one that might set us apart the most is the last one: Customer service. 
The truth is, when everything is routine customer service is easy. If someone orders a watch, I review the order, put the watch and other items in the box, print a shipping label, and put it in the mail. The customer gets notifications automatically, they receive their watch, and everyone is happy. Easy. 
Good customer service really shines when things go poorly. When something isn't working right. When something breaks. And when that happens we don't make excuses. We take responsibility, and we act quickly. 
Look at the top of this blog post. It's a detached rotor in a Wasson Automatic Field Watch. If you're not familiar with automatic, mechanical watches, you should know that the rotor is essential to the function of the watch. Its movement powers the overall movement of the watch and without it, the watch won't work at all. 
As soon as the customer who owned this watch told me there was a problem my heart dropped. He was one of our first customers, and I hated the feeling of letting him down. Initially he reached out via email and said that the watch kept stopping and didn't seem to be winding on its own. As soon as I received the email I responded and called him directly to try to get to the bottom of the problem. I gave him some tips on what he might be able to do differently, and told him to let me know how it went. When I didn't hear back I contacted him again several days later. After a few rounds of remediation, I realized that the watch was indeed broken, and told him to send me the watch. I offered to cover shipping, but he said he was happy to, so I waited for him to ship it. 
Some time passed. 
I contacted him again and let him know I would go ahead and cover shipping. I created a shipping label, which I emailed to him. Several days later I checked in again to remind him to ship it. When he shipped it I let him know when I got it, and gave him updates until the repair was complete.
It wasn't until I received the watch that I knew the rotor was detached. Given that the customer said he hadn't opened the back, I considered the problem to be a factory defect. I contacted my Swiss manufacturers and shipped the watch back to them. 
While the manufacturer did cover the cost of the repair, shipping from Switzerland was costly, but I passed none of that cost to the customer. 
Another example: 
What you see in the above image is moisture in the watch. That's bad, and not supposed to happen. This is much more recent. When the customer reached out to me (on a weekend) I responded the same day and got some basic details from him. Then I had him send me the watch, which I received and took to my watch technician the next day. The technician was able to dry out the movement and the movement was still in good shape. After some investigation it was determined that the watch was still water tight, and it appeared likely that moisture entered the watch while the crown was unscrewed and the watch was exposed to moisture (this is typically the only way that watches with 100M water resistance get moisture on the inside). 
All appropriate remediation was completed on the same day, and the watch was shipped to the customer on the same day. 
The customer was charged nothing.
Thankfully we haven't had many problems with our watches that have required remediation. I share the above examples with you to make a point: We really, really, really, really care about each of our customers. Our goal is to treat every customer the way we would want to be treated. 
As a watch enthusiast, I know how I want to be treated, and I know how I've been treated in the past by other watch companies. 
I refuse to speak bad about any of our competition, so I won't be naming names, but I'll share two examples of customer service experiences I've had personally with other companies in the past. 
It just so happens that I have had two watches that needed to be repaired in the past. 
The first is actually another US-based microbrand that sells watches with both Swiss and Japanese movements. I had purchased a beefy dive GMT with the most intense illumination on it. I liked it. But within a few months of receiving it, a piece of the illumination on the bezel broke off. I sent the watch back for repair. I was given very little information about how long it would take or what to expect. When I called I had a hard time getting information. Finally after several months passed I called again and they finally told me that the watch had gone back to the manufacturer and they had no idea how long it would take. 
I opted to simply return the watch, and use my money to buy something else. 
More recently I had an issue with a Swiss made dive watch from a larger brand. Long story short, I sent it in four months ago, and while I was told it should take 10-14 days, they just sent the watch back a few days ago. They charged me for everything, and actually tried to charge me for a lot more. 
Customer service in much of the watch industry is downright terrible. There's no reason it has to be this way, and we are proving it one watch at a time. 
So if you ask me now, what sets Wasson Watch Co. apart, I'll tell you: We will treat you like a human being that we care about, because you are a human being we care about. You're more than just an order number and a financial transaction. You are an image bearer of God, and deserve to be treated like one.