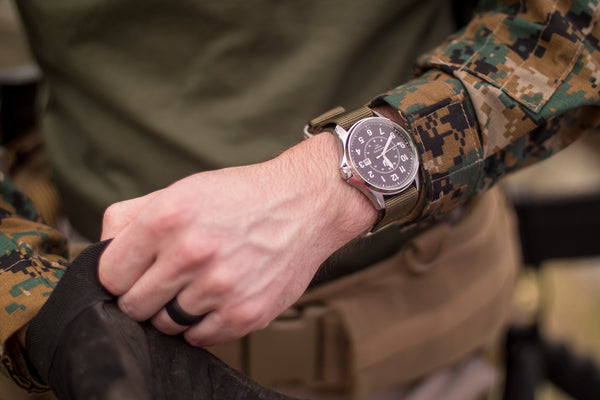 Picking the Right Watch for Deployment
I deployed to Taji, Iraq in August 2008, but spent a few months in pre-deployment training at Ft. Meade in Maryland. A few days before deploying I was killing time at the Arundel Mills Mall just a few miles north of the base, and I wandered into a watch shop. At the time I was wearing a plastic Timex, but it occurred to me that I might want to get something special for my deployment. Something a little more substantive, that I could pass down to one of my kids someday. 
At the time I didn't really know a lot about watches, and my perception of a "high end watch" was basically anything over $100. I knew nothing about automatic, mechanical watches, and the idea of spending $1,000 or more on such a thing simply wasn't on my radar.  
I didn't really know anyone with an automatic timepiece either. When I was a kid my dad had a stainless steel, digital Citizen, which was basically my idea of a really nice watch. So I asked the guy behind the counter if they had any metal, digital watches. They had one, a Casio Pathfinder, which had a titanium case and synced with the atomic clock through radio signals. The battery was replenished using solar power. I paid around $300, and honestly it was a good watch. It served its purpose, and I never had any major problems with it.  
But in hindsight, if I had known then what I know now about watches, I can tell you I would have gone a different route. 
Because, yes, the base function of a watch is to tell time, but an automatic timepiece can offer so much more than that. Automatic mechanical watches of good quality carry value. They last. More than just instruments for measuring times, they become heirlooms you can pass on to your children. 
Yes, you can wear a plastic watch with a quartz movement on your next deployment, and assuming you have no battery issues and the strap doesn't tear, it will serve you just fine. But you'll have missed the opportunity to create stories and legacy around a relic that you can proudly wear for the rest of your life, and then pass on to future generations, who will also proudly wear it for the rest of their lives. 
What I've talked about so far is somewhat abstract and ethereal, but there are legitimate, practical reasons for going with a quality timepiece over the cheaper alternative beyond all of this story and legacy business. But before I get into those details let me define a little more specifically what I mean by quality vs. cheap.
When I say quality, I mean a watch with a stainless steel (or other quality metal) case, sapphire (or hesalite) crystal, automatic movement (preferably manufactured in Europe or Japan), and at least 50 meters of water resistance. There are all kinds of other stipulations I could add, but consider this the bare minimum. A good watch for a deployment should also have a date window, some kind of illumination, and clear legibility. Watches like this will usually start in the $500 range, and quickly go up into the thousands or tens of thousands. 
Now, to address cheap watches. Any one of these characteristics don't necessarily make a watch cheap, but the more of these you see, the greater chance you're dealing with something that you shouldn't expect to last a lifetime: Plastic (or fake gold) case, mineral crystal (not sapphire or hesalite), quartz movement, 10 meters or less of water resistance, and manufactured outside of Europe, Japan, or the USA. While there are plenty of quality watches with leather straps, for something more durable and appropriate for a deployment you want to look at stainless steel, nylon, or a high-end rubber/silicone. Typically you would expect a price tag on a watch like this to be under $500, but you might be surprised to find that some watches with characteristics like this are sold for more. 
Before I run through some of the specific pros and cons of these various characteristics, I'd like to tell you a story of a watch I bought years ago that I thought was a great solution for more rigorous activities. A friend of mine had been issued one in his special operations unit, so I figured it must be a pretty good option. 
The model I was looking at was plastic, with a rubber strap, a large, digital face, and some other features like an altimeter, thermometer, and compass. And frankly, it just looked cool. 
I bought one for around $300 (which felt pretty expensive at the time) and wore it happily for several years, although slightly less happily when the plastic "crystal" got scratched and made it harder to see the time. But I was disappointed when the batteries failed quickly, and seemed to do so again when I replaced them. After wearing it for just four years the strap broke. 
This is not the outcome you want on deployment, or anywhere else for that matter.
Conversely, a quality watch (as I defined previously) will not suffer from any of these maladies. Sapphire crystal is the second hardest kind of glass after diamond, and is extremely difficult to scratch. You'll be able to see the time clearly after all kinds of abuse. 
Stainless steel (or other quality metal) is important for the case to protect your automatic movement, and while it can scratch, it will be more resistant to scratches than a plastic case, or something coated to look like gold. Speaking of movements, an automatic movement never runs out of batteries. If you're in a remote outpost, equipment sustainability without access to a reliable supply chain is a must. 
Water resistance is important, because at the end of the day, water damage is an incredibly common way for watches to end up ruined. Ideally you want a watch with a screw-down crown and 100 meters of water resistance, so you can rest assured that water damage is virtually impossible barring user error (don't open the crown and stick your arm into a pond). 
I've always been partial to metal bracelets, and so I am personally unlikely to consider a watch that doesn't come with one. A stainless steel bracelet is incredibly durable, and it looks great, but there are other options, and with a few simple tools it's easy to change out the metal bracelet for a nylon or rubber strap as the situation demands. 
Nylon NATO or ZULU straps are excellent for deployments and rigorous activities. They're comfortable, breathable, and can take a ton of abuse. Although they are washable, they may get faded and sweat-stained over time, so just be aware that the same nylon strap you wear on deployment may not be the best one to keep your watch on when you go on a nice date. 
Rubber/silicone can work well too, but just know that over time these straps can become brittle and break, and they also may be susceptible to cutting or tearing. If it breaks in the comfort of your own home it's not a big deal, but if it happens under adverse circumstances you could lose your watch altogether. 
At the end of the day, there are a ton of great watches out on the market to choose from, but at this point I'm going to tell you about the Wasson Automatic Field Watch, and why it's an excellent choice.
Yes, we are a watch company, and this is what we sell.
It checks all the boxes. It's Swiss Made. It has a Swiss, automatic, mechanical movement with 25 jewels. It has a sapphire crystal both on the front, and the back so you can actually see the beautiful movement with your own eyes. The case and bracelet are made of 316L stainless steel, but the watch also comes with a nylon ZULU strap, and the tools you need to make the switch yourself. It's 100m water resistant. 
But there's more - the Wasson Automatic Field Watch offers unparalleled readability for an analog watch. Every element of the dial was designed to deliver superior legibility while also achieving an incredibly attractive aesthetic. That means that you'll be able to easily read the time on the battlefield, but your watch will still look good when you're with your wife at some nice restaurant. 
Additionally, the hands and numbers are painted with SuperLumiNova® for clear nighttime legibility, 24 hour time on the inner ring, and a date window so no matter how little sleep you're getting, you can always keep track of when the days are moving forward. 
We thought of every detail, and refused to settle. For those reasons this watch spent three years in product development. 
You can order one here. You won't be disappointed.