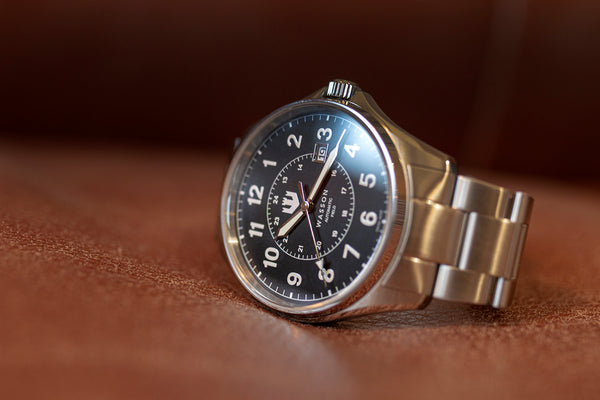 Our Story
Wasson Watch Co. was founded in 2018 out of a deep desire to build not only an excellent timepiece, and an exceptional company. We are watch enthusiasts. We love nerding out on everything the market has to offer already, and truth be told, we love many of the other brands and models the market has to offer. 
But we were searching for something more.
We wanted a specific watch that we couldn't seem to find. So we made it. 
As it turns out, one does not simply dip one's toes in the waters of watchmaking. It's more of a baptism, and ours was a baptism by fire. We spent three years in product development for the Wasson Automatic Field Watch for one reason: the relentless pursuit of excellence.
There were countless opportunities to settle, to cut corners, to take the easier road, but from day one we refused to compromise. We worked hard until the job was done. 
And we are proud to announce that 500 watches are in production now and will be available by June 2022. 
So why are we so committed to excellence?
Everyone knows that a correlation exists between good business and profit, and we would be lying if we said that this wasn't part of our motivation. But ultimately we are motivated by something far greater: Our devotion to our Lord and Savior, Jesus Christ. 
Colossians 3:23-24 says, "Whatever you do, work heartily, as for the Lord and not for men, knowing that from the Lord you will receive the inheritance as your reward. You are serving the Lord Christ."
At the end of the day, we are doing our work for God. This drives us to not only manufacture excellent watches, but also to run our business in a way that is honoring to God. It impacts the way we treat customers, employees, and vendors. It shapes the way we advertise. It even affects the way we use our profits. 
Wasson Watch Co. pledges to give a portion of its profits to God-honoring organizations that serve others in Christ's name. 
The Future
Expect to see new models coming out within the next few years - Or ast long as it takes for us to get them right. We promise to apply the same standards of excellence to every model we develop.